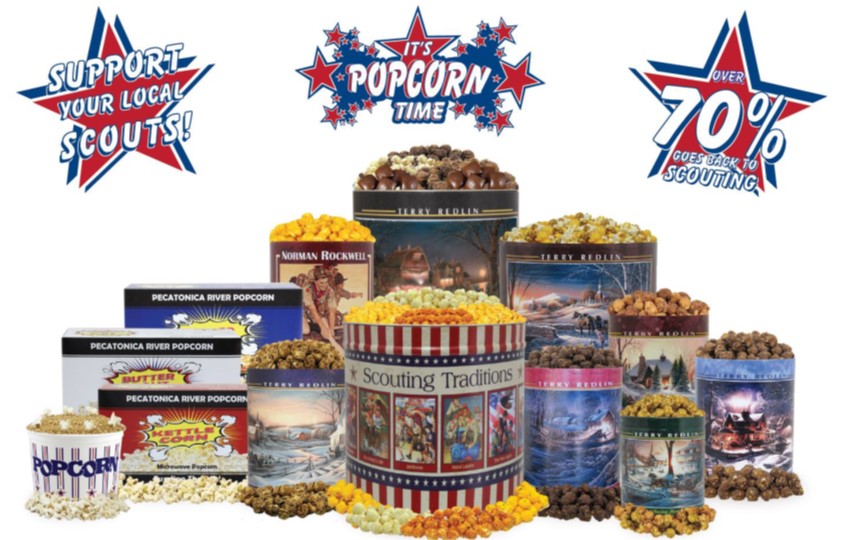 Popcorn Pickup Time!
Flyer Updated September 2.
This week popcorn will be delivered to locations across the Blue Ridge Mountains Council. Your delivery location is found on your prpopcorn.com account. For the order arriving this week your pick up location cannot be changed, if in the future you want to pickup at a different location you can change this in the system.

Next date to order popcorn is September 13 with pickup September 17. Don't run out of popcorn!
We are excited about the sale and have made some additions to the product mix based on the feedback we received from the 2020 sale. A virtual kickoff is planned for July 21st 7:00pm to join this presentation follow the zoom link (insert zoom link). This year the BRMC will again offer multiple order and pick up dates throughout the sale. This means you can order as you go! Other sale highlights include:
Easy to understand commission structure
100% popcorn return
Online orders and FREE Shipping
40% commission on all online orders.
What do you need to get started?
Log on to the website www.prpopcorn.com and "commit" to the 2021 sale. Once you are in the system you can update your roster of Scouts, and begin placing your first order for Show & Sell.
Start now planning your units' kickoff for the Fall Sale. There are some great training videos for your Scouts to view on the Popcorn website, as you communicate about the sale linking those videos will be helpful for their preparation. There is also a fun interactive game to go along with the videos.
2021 Popcorn sale dates.
2021 Popcorn Kick-off Saturday June 26th
Show & Sell Order Due Friday August 6th
Show & Sell Delivery to units Friday August 27th
1st RESUPPLY DATE
Order placed on MONDAY September 13th Pick up Friday September 17th
2nd RESUPPLY DATE
Order Placed on MONDAY September 27th Pick up Friday October 1st
3rd RESUPPLY DATE
Order placed on MONDAY October 11th Pick up Friday October 15th
Sales Commissions applied to Invoice October 15th
Show & Sell order return & Place take order Friday October 22nd
Take order Distribution Friday November 6th
Sales Commission applied to invoice November 12th
Popcorn take order money due Friday November 19th
(Re-Supply Orders are due by noon on Mondays)
2021 Popcorn Commission structure
All online sales will receive a flat 40% commission
Base Commission 30%
Additional 2% commission for units who pay in full on/by October 31st 2021
Additional 2% commission for units who sell over $5,000
Additional 2% commission for units who sell over $10,000
Additional 2% commission for units who sell over $15,000