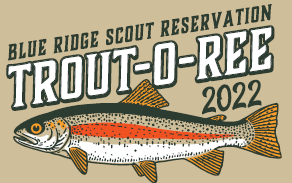 BRMC Trout-O-Rees 2022
October 21-22, 2022 Registration open NOW
Registration and Details for Trout-o-rees
• Pre-registration is required due to space limitations.
• Parents are encouraged to attend and participate in this event; however, remember that the scouts come first.
• Fishing begins at 7:30 a.m. on Saturday. Registration is open from 7-9 p.m. on Friday evening at the shower palace or on Saturday beginning at 7:30 a.m. until 10 a.m. at the boathouse (see camp map).
• With your fishing registration you will receive lunch, a patch and eligibility to compete for prizes (youth only).
Click to Register for Fall and for complete information.
Order T-Shirts Today!